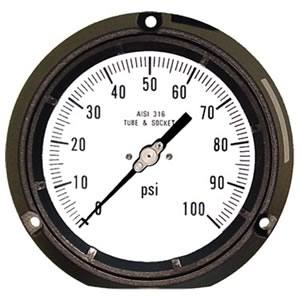 Products > Marshall Pressure Gauges
4502 - Process Gauge - Lower Mount w/Wall Mount Holes
Item: 4502



Heavy duty gauges and process gauges are designed for applications where accuracy and durability are critical. Available in a wide variety of configurations, these gauges are fully adjustable and repairable for re-calibration. Phenolic cases include a solid front/blow out back design as an added safety feature.
Dial: 4 1/2" (114 mm)
Case: Phenolic case with solid front/blow out back Dry, field liquid fillable - no kit required
Wetted Part: 316 stainless steel
Movement: With overload/underload stops
Bezel: Removable, phenolic
Lens: Polycarbonate
Pointer: Micro adjustable, black aluminum
Connection: Lower mount with holes for wall mounting
1/4" or 1/2" NPT
Scale: Standard: single scale psi
Accuracy: 0.5% of span ASME B40.1 Grade 2A
Ambient Temp: Dry = -30° F to 180° F
Glycerine Filled = 30° F to 160° F